Connect to the Inner Teachers of Your Sacred Body
Date: June 17 2018
Time: 2:45-4:30pm
Ticket Investment: $30 Pre-Purchase | $35 Day-of "at the door"
Who:
Anyone who wishes to walk, dance, or move in their body with more awareness of the metaphysical messages in your joints, tissues, and organs. (And, anyone who wants to increase personal awareness during a deeply relaxing, restorative, and therapeutic experience.)
Description:
Have you ever been curious about the mysterious messages that come from the body? Have you ever wondered how our metaphors get encoded in our soul's journey? Have you ever wondered "where did I come from?" "how did I get here?" These are some of the questions that Amelia will answer (through the wisdom teachings of Spirit that have been shared with her). After a short sharing, we will travel together and individually through the story of how you became a body and find ourselves in deep connection and partnership with the messages and metaphors that are speaking through your various parts of your body.
As you come into resonance with your body in this way, you will be deeply immersed in healing wisdom and creative potential. Whether you dance in this life, walk in this life, create art in this life, or are in contact with the sweeping daily activities of living a Spiritual life through every day tasks, this experience and ceremony will leave you relaxed, refreshed, and seeped in the wisdom of your own brilliant body.
Come share in a time of enlightenment and radiance.
As this day is Father's Day, we may also (if the group feels resonate to the idea) work with the Divine Feminine and Divine Masculine forces within us and honor in short ritual the mother and father dimensions within.
This session will have three primary spaces:
Space 1: A short teaching around the therapeutic and expressive importance of realizing how you came into this life, into this body, on this beautiful planet earth.
Space 2: A longer, deeply restorative guided journey into stillness and then into what Amelia calls "awakened stillness" where you can listen to and learn different access points to your inner teachers – your anatomy, your body's stories and opportunity to listen to and learn from the teachings.
Space 3: A conversation and time for sharing and personal deepening with Amelia
Amelia will be joined by a dear colleague and ceremonial musician for this event only to deepen your experience of connecting to the vibration of the orginal mystery of your life.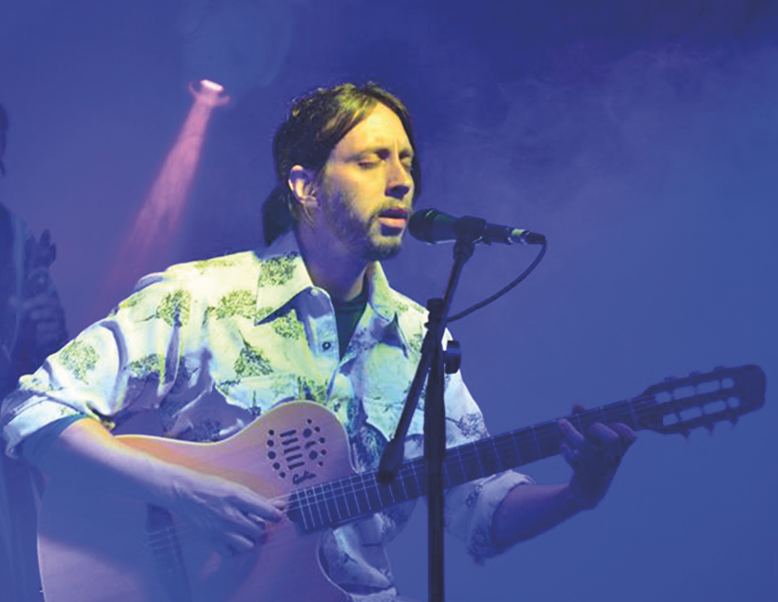 John Westmoreland is a musician, teacher and healing sound practitioner based in the piedmont area of North Carolina. He studied jazz and classical composition at Berklee College of Music where he was also a recipient of the BEST scholarship. In 2011 he became a founding member and guitarist of the West-African fusion band Kaira Ba. Outside of traditional performances, John's studies have included the use of music during indigenous ceremonies and modern healing ceremony to facilitate healing and deep relaxation. In 2013, he received an Emerging Artists Grant from the Durham Arts Council to travel abroad to study indigenous musical traditions of the Amazonian Jungle and the Andes Mountains of Peru. He shares music for yoga and meditation classes and retreats; leads music relaxation sessions at assisted living communities, has provided healing sound during massage and acupuncture sessions. You can find John as a performer on stage as well as a facilitator of music for yoga and meditation sessions. He also facilitates and plays therapeutic music programs for groups of seniors with dementia and Alzheimer's and also individual patients at UNC Hospitals and Chatham Country Hospice. John's approach to music is intuitive and draws upon music from many cultures and traditions. His soundscapes include a diverse range of instruments such as voice, guitars, charango, chimes, and Tibetan singing bowls.
You will experience:
• Listening to the messages of your anatomy from a metaphysical and energetic lens
• An experience of entering the sanctuary of your own "awakened stillness"
• A guided meditation filled with the lessons hiding in different areas of your anatomy
• Personal healing and awareness based on your own personal intention, desire, and needs
• Active affirmations that bring you into deep connection with different parts of your body
Amelia will be holding a safe container for relaxation and opening. You will always be in full control of your own energy, your own body, and your own experience and any prompts and invitations to explore are completely optional. You are your own empowered teacher and this is a session that allows you space to heal, space to explore, and space to listen depending on your specific needs as you walk into the space.
Coziness is essential – please bring your yoga mat, a blanket, and even a pillow.
13 Thank You's:
I would give kind thanks and endless gratitude to the Reiki Wind School and Healing Center for hosting and sharing information about this event to your community. It is a blessing to come and share with you. Thank you, Kathy & Bob!